Weeride Testimonials 
BIKE SEATS
4/9/15
Hi Mat,
I'm not sure where to leave a review of the seat as I bought it from your outlet on EBay, I have left feedback. I'm happy to leave you a positive review if you can send me a link.
I fitted the WeeRide to my 2015 Kona Kahuna 29er and I have to say other than breathing, it is the easiest thing I have done! 
Absolute snip to fit, from the box to test riding with my little pilot was less than 20 minutes, and that included fighting with 'Jaime' to put her helmet on! 
So far so good, I bought this so we could all enjoy our local trail centre without the need for my wife or I pulling a trailer. I'll keep clear of the red and black runs with the seat fitted but this is easily capable of coping with the blue grade single tracks, with no impedance on the bars and controls. 
Balance and centre of gravity issues are non existent, it truthfully is like having nothing there, I would say though, if you normally ride with a lower tyre pressure (I do) for grip on the trails, it does require you to put a few extra pounds in to cope with the extra weight. If you are purely a Tarmac rider this won't be an issue for you.
The only is now that I have a running commentary of the route and pretty much constant requests for changes of direction as she wants to follow a squirrel or similar furry creature!!
I have absolutely no hesitation in recommending this product to others. 5* without hesitation!
Best Regards
Rory O'Neill
22/6/15 Hi I just wanted to say how great you guys are. We have had our rider for 6 years, had several children on them (including other families) and it continues to provide a great riding experience for both child and adult. We recently needed to replace the harness straps and on discovering we could simply purchase a new one impressed me so much i needed to say, thankyou. In a world of \'get a new one\' society, i really appreciate having the ability to simply replace the part that is broken. I\'d always expected the straps not to last in harsh out door weather. Thanks for a great product and great service. cheers steph
  20/4/15
Hi Mat
Pls see attached pics of the wee ride fitted to a Boardman Team FS as requested
Had it out today with the youngest daughter and she loved it. 
Great product, good build quality and a much better design than the rear seats
A little fiddly to fit at first, especially around the head tube as it is oversized on that bike. I'll have to show the Mrs how to do it so she can fit it to her bike if I'm at work. 
All in all very happy with our purchase
Best regards Angus Ogilvie
7/4/15
Hi Mike
Quick one.... We just bought the weeride and it's brilliant! Have just taken it on a test drive so far but feels great.  Just wanted to let you know that it's been fitted onto a Tokyo Bike... mens frame.... single speed. And it's perfect!
Great Web site. I admire your story!
Thank you! Nicky
26/12/14
> Hi Mat,
> We picked up my new bike from Evans with WeeRide Deluxe installed. At
> first I thought, no way will my kid fit in that tiny seat (Charlie will be 3 in March, but wearing 4yo
>> clothing, he's tall and heavy (over 15kg) with size 9 feet!) - but he did
> and didn't say it was uncomfortable. Personally, the ride home for me
> was excellent; easy to manoeuvre and felt much safer than the seat at
> the back on my friends bike that I have been borrowing. I had plenty
> of room to see over Charlie's head and am actually looking forward to the school run in January!
> Will post a pic as soon as I can get someone to take one.
> Thanks so much for all your help!
> Happy Xmas :)
> Tracy Strassburg
18/10/14 Hi and good afternoon, thank you for your email, I purchased a rain poncho from yourselves for my 21month old daughter.
We have a weeride seat and I have fitted it to my Scott elite mountain bike with no problems.
Anabelle absolutely loves it a week at centre parcs cycling everywhere. She was safe and very happy in her weeride and enjoyed looking around and waving at everyone from her royal position!
I saw the poncho which will be ideal for our rainy rides as she always wants to go out on the bike with me now. She even makes sure we have our helmets by tapping hers and then taps and checks mine. 
I will attach a picture of my bike for your records with seat fitted.
Our friends were so impressed they have just bought a weeride for their daughter.
Thank you very much the delivery of the poncho was quick and as described. We will probably need it this weekend!
Kind regards 
Stu Henderson

25/8/14 Hi Matt, thanks for writing back , I have since fitted the seat to my bike!  I watched some of your videos .  Went on our first ride yesterday . We love it. It's a shame that some bike stores don't have the know how to fit your seats. The weeride is obviously much better than the rear mounted seats that the stores sell.  Thanks again
Tom Green
Thanks for these. That is what I thought - see no reason why they don't fit.  I tested with mine, and no problem on clearance of the drops, plenty of space to fix the bar on the stem, space for the baby or for me.  And access to the brakes perfectly fine too.
Was curious why you say it can't be used on drops.  Guess it is as you don't want to encourage a bunch of Lycra racers with babies?  I think however the safety of the child is a function of a) good kit (which yours is) and b) good cycling - nothing to do with the fact that the bike has drop bars.
Anyway welcome your thoughts
Dr Mark Jonathan Davis
1/7/14 Dear Mat,
You are very welcome. Customers as a whole are very quick to complain, but also very slow to praise!
My wife & I like to show our appreciation when we purchase something excellent, so credit where credit is due - your Wee Ride is top of the pile!!
We posted that photo on Facebook, after our caravan holiday in Castle Ward, Northern Ireland, and the comments from our friends went through the roof asking what it was called & where it could be purchased, so look out for numerous orders coming in from Belfast and Liverpool!!
Please feel free to use the photo in any future promotional items that you may have, we'd be proud to show off our son enjoying the Wee Ride!!
Best of luck in the future & kind regards, Keith, Vicky & Jamie Crawford (aged 9 months), Belfast.
15/5/14 Superb. Thanks again Mat.
We're coming to the last few months of using this as our girl is getting big now and if like to comment that it has been fantastic. I have extremely happy memories of riding along practically cuddling my daughter. Chatting, laughing, ringing the bell (lots). I can't thank you guys enough. Best purchase ever.
Kevin Mully.
31/1/14 Hi again Mat,
Just to let you know, and in case any other shorties get in touch (!), the Ridgeback 603 LX mountain bike (or 602 LX hybrid) with 17" frame fit the WeeRide perfectly and is comfy for me too!  The forks tap the foot cups when you turn more than 30 degrees, but you shouldn't need to steer more than that anyway and when they tap, the cup moves out to the side, so I went with that instead of the hybrid which wouldn't have touched the cups, simply as the suspension will hopefully make riding more comfy for me and my daughter.
The staff at Bike were all keen to see the seat up close and one of them asked to test ride my bike with seat fitted too!
Thanks again for all your help,
Sacha Taylor
13/5/13 Hi,
Just thought I'd drop you a note having put our new Weeride Safefront Deluxe through it's paces - in summary, it's fantastic.
Please add Whyte 46 and Kona Lisa to your list of compatible bikes.
Feedback:
Prior to purchasing, I was concerned that there was very little space (height) to clamp to between the toptube and aheadset; I've included a couple of close-up photos to highlight how little space there is available on this bike, which had no problems; I would have found this useful. I hadn't thought much about the restriction to steering by the feet boxes - I think it would have been useful to be made aware of this, and highlight that it really doesn't restrict the practical use (even when riding off-road).
Are you going to develop a rain cover? - My daughter still really enjoyed the short ride home from nursery in the pouring rain, using our Maxi-Cosi Pebble car seat cover. The flap for a handle and mesh sides ensure plenty of ventilation. I think it would be great if there was one designed to fit (also helps keep the seat dry in transit or when sat outside in the rain).
I really can't believe they aren't more popular; it always gets compliments, especially when riding some gentle singletrack with a smiling/waving 1yr-old.
Cheers,
Dave Hirst
17/2/13 Hi,
Just a quick note to say how chuffed I am with the weeride seat my wife bought me for my birthday, I took my 10 month old daughter out on the weekend and we absolutely loved it (photo attached)
I was worried that it would be overly complicated to attach to the bike or a bit clumbersum however it was really easy to fit and doesn't affect the ability to ride the bike safely in any way.
Pass on my thanks to all involved in getting this product out to the market!
Much appreciated
J Holland
19/1/13 Good Morning,
The product was delivered quickly and efficiently. It was easy to fit and a great product.
We fitted it to a Specialized Myka FSR Elite, it was a tight fit but just fitted. The only issue was it had to be fitted on the front stem post as there was no room on the frame of the bike.
We bought the product from wee ride direct online.
Many Thanks for your excellent customer set service. Gary Mcracken
10/9/12 Hi Mat, This is my daughter Ella enjoying the WeeRide - let me know if you need another picture, maybe more of the bike! 1. My bike (ladies) is a Marin hybrid 2.Picture attached 3. Bought this WeeRide to use on my bike with my 15 month old daughter - wish I'd done it sooner! She really enjoys going out on the bike and I love that she feels safe and secure on the front. I have attached a mirror to my handlebars so I can see her reactions and whether she is okay too! I haven't mastered putting her in the WeeRide on my own yet but I will have to get used to that soon!! Thoroughly recommend it and my husband is jealous now so we're looking to buy an extra bar so he can take turns!! Cheers, Dawn Carson
7/9/12 Just a quick note to say thank you for brilliant service!! Ordered at 1100, arrived 0900 the next day!! Why can't everybody be like that
Thanks
Chris Wilson
20/8/12 Hi,  Sorry, My computer says there are atachments.  Here goes then.  I fitted the weeride to a muddy fox duel suspension mountain bike.  It fitted with no problems whatsoever.  I am really pleaseed with the product so far and my little one who is 19 months absolutely loves being in it.  He holds on to the front pad and pretends he is driving it.  I will e-mail a picture at some point in the future.  I would highly reccommend this product to everyone.  Many many thanks.  Trudie White

3/8/12 Hi Mat
As you probably realise I ordered the WeeRide seat from you.  It fits perfectly, though I had to use the longer Allen screws supplied.  I also used some neoprene tape under the fittings to further protect the paintwork.
The only problem I had was the rear fitting wanted to go where my mudguard fits so I had to move that up an inch which took about 10 seconds longer.
The seat arrived within 24 hours of ordering it, thank you. My granddaughter loves it.
I can't understand some of the negative reviews on Amazon from people who say they don't like angling their legs outwards, and experience chaffing on the inside of their thighs.  To me there really is no problem. I'm guessing that different bike frame sizes and peoples body shapes must play a big part in how much the seat intrudes into their leg space, because most people don't mention that the seat gets in their way.
A great product and I'm very pleased with it and the way your company operates.
I've attached 6 photos of the bike fittings. There are certainly no problems fitting to a Mongoose mountain bike.
Regards
Colin Grave
27/7/12 Hi Mat, as per email from my work address - am very happy with the WeeRide. I don't think there's anything that should have been done differently. I received very good customer service for some pre-purchase enquiries and the purchase process was smooth and efficient. I have fitted it to a Giant Anthem x4 mountain bike. Will forward a photo of the seat in action in due course, Best wishes Andrew Breed
27/7/12 Dear Mat,
Our WeeRide is fine and the service was spot on thanks: no need to change anything in my opinion.
The seat is fitted to a 2011 model Carrera Kraken MTB and I can confirm that it fits without any difficulty.
Regards,
Jon Wilson
18/7/12 Hi Mat
Just wanted to say thanks for all your help with the purchase of this. The seat arrived lunchtime on the Thursday so I didn't need to worry about not being home Friday for it. I hadn't expected it so soon! And thanks for finding me the orange and white helmet. I am not really a fan of pink everything for little girls. No doubt when she is old enough she will love pink!
We gave the seat a test run this weekend and she really loves it! Its lovely to be able to see her looking around and pointing at things. Once we had had a test run and adjusted my seat height I found it really easy to ride. Glad we got the spare bar too as it was really easy to swap over the seat and we both got to take a turn riding her around.
Thanks again
Miriam Page
24/12 Great product, very strong, easily fitted to my Moulton mark 3, 1974 model, 30 month old toddler delighted, thanks J
18/5/12 Hi Mat Sorry for the delay in replying, I hardly ever look at this email account, as I leave it just for ebay. I am thrilled with the WeeRide seat, it is fantastic; was easy to fit on my old mountain bike, which is quite a small one (sorry not sure of exact size) and my little girl loves our rides in the country. She can see everything clearly, we have lovely conversations of what we pass etc and she feels very safe, even when she's tired and becomes wobbly. My only negative is that I wish that I had bought this 2 years ago and was able to use it for longer, as she is coming up 3 and I wonder how long I will be able to keep her in it comfortably. I recommend this to everyone with a young child, it really is the best! Have attached a photograph, not sure if it's quite good enough for you to see the type and size of bike but hopefully it can help. Once again, thank you for a great product. Best regards Rachel Meakins
7/5/12 Dear Mat,
Thank you for the follow up email. We have fitted the bike seat to a Pashley Princess and we love it! The only problem is that we did not order an additional centre mount with the original order and so we are having to purchase one at full price now. However we have recommended this seat to our friends who are also going to buy it so we may ask them to buy the package including the additional mount at the reduced price (good thinking!).
We purchased this directly from weerideuk website and we would be happy to leave feedback but I can't see how to do this. Could you give me instructions?
Attached is a photo of me and our 13 month old daughter enjoying our first outing on the bike!
We would be
Kind Regards
Debbie Ledsham
1/5/12 Please find attached a photo of me using the bike seat. It is fitted to a Giant Roam XR1. We're really happy with it and my 23 month old son fitted perfectly. Looking forward to the weather improving so we can get out on some longer rides! Richard Coogan
9/4/12 Hi Mat,
We bought the seat to go biking as a family in the forest of dean and having go back this morning I can say it  was a totally successful experience with our 19 month old loving the experience including lots of giggles as we made our way down a bumpy descent.
The bike we used is an old Claude butler mountain bike ( rock rider) but I can't give you any more details about the bike as it is second hand.
We have all had a wonderful day made possible through your product.
Simon Clow

5/4/12 Hi Mat,
Thanks for the email. We've already left positive feedback and well deserved it is too.
It arrived very quickly, as promised after pressing the buy it now button on eBay.
We appreciated the video showing the product in use and it gave us confidence to invest.
From other peoples reviews and feedback we realised it wouldn't fit on my bike (Marin alpine trail) 'cos it had no head tube protruding above the top bar. That might be worth explaining in your descriptions, rather than saying it fits nearly all bikes.
However, it fits my wife's new Raleigh Elegance really well. Here's a picture of it Pre-ride. Our 2 year old, 10kg fits perfectly! Even with the obligatory wobbly helmet my wife's sit up and beg bike allows her towering 5'1" frame to see over the top.
16/3/12
i am very happy with the product and is doing everything it claims to. my daughter loves it. i have fitted it to an apollo full suspension bike.
many thanks
Satpal Shekhawat
10/3/12 We have been out on our bike this morning along the river. The Weeride was excellent as my daughter and I were able to chat whilst we cycled. She particularly liked being able to ring the bell and pointing out the puddles to avoid.
The bike it's mounted on is a Kona Nunu.
Jon and Olivia (2.5 years old) Heard
17/2/12
Hello Mat,  I have enclosed some photo's of myself and my son about to test ride our wee ride for the 1st time. Sorry it has taken me so long to send them in. We were brought the Wee ride as a Christmas present. I was informed that there was a competition to have the chance to win a wee ride by sending in  a photo.
My son isn't at all bothered at wearing his helmet (also brought from you). The bike is a Trek 7.2 FX 2011 WSD Womens Special Design frame. (not quite a gents frame).
We both enjoy our cycle rides very much. He often falls asleep on the way home. If I were to win I would give the seat to my mum as she looks after my son once a week.
Fingers crossed...
Yours Sincerely
Emma Baldwin
17/11/11 Hi Jo, Received the seat today. Brilliant !!!! Fixed in a couple of minutes. Thanks for the swift postage. Ordered Sunday received in Victoria Tuesday, OUTSTANDING!!!! Feel free to use this as a testimonial. Thanks again Dave Twissell

7/10/11 Hi Mat!
I just wanted to let you know that I have published the review on the WeeRide :)
We absolutely loved it!! And so did our little girl - a brilliant product!
Thanks so much for the opportunity to review it :)
https://mummysmiles.com/baby-products/weeride-baby-bicycle-seat-product-review/
Regards,
Natalie
11/9/11 Hi Jo:
 As promised, here are the pics of Audrey and I riding with the Weeride.
I have a number of bikes, I put the Weeride on this single speed today.
I might put it on a different bike next week (one with gears!). I know the instructions say to not use drop bars with the Weeride but I have not had any problems. I rode perhaps 5 kilometers with Audrey today and she loved it. She is 17 months old.
 Regards;
 Evan Blair
3/9/11 Hi Mat
Just to let you know, the weeride fits the Felt!! I will forward pics as soon as I cam.
Many thanks for your help.
Best regards
Cindy Rickards

30/8/11 Hi Mat Thanks for the advice we did go ahead and buy the Weeride.  Love it and use it as much as we can.  People stop us and ask us where they can get one so we've been sending them your way.  In fact we love it so much: https://vimeo.com/28324708 Best wishes Andrew, Laurie and Matthew

12/6/11 Hi Mat, Just a quick one to let you know that the new seat arrived safely yesterday afternoon and to Thank You very much for all your help, It is refreshing to receive such good customer service from someone as these days it seems to be a dying art and i can assure you that i will be recommending you to friends/family in the future!!!!!  Regards Chris Simmo
27/5/11 All delivered thank you very much for your assistance and quickness, if you require a testimony for website etc regarding this please dont hesitate to ask Rob Cooke
27/5/11 Hi, I spoke to you earlier this week about problems fitting the seat to my bike.  Your suggestion worked and all is well.  I have a Cannondale F4 (small frame), it's 49cm from (oversized) head tube to seat post.  Maybe the oversized head tube and a small frame being the cause of the problem here.  Anyway moving the seat post fixings to the holes forward of the original fixing has worked a treat.  My son is loving the ride and constantly saying 'wee' 'wee' all through the ride.  Thanks for your assistance. Cheers, Jo
11/4/11 THANK you for your fast service I bought one a few days agow as my bike was stolen so got a new bike, now my daughter wants to use it so. All I can say is it is the best service I have ever had.  AND THANKS FOR ALL YOUR HELP
JOCK
2/4/11 Hi Mat, just for your future reference this fitted... just! I had to remove the plastic "padding" pieces on the front end and bend a couple of gear cables but it just went on. I had to replace the bolt which is used to hold the front and rear sections together as it had been over-tightened by somebody and the head was rounded out, but otherwise a nice piece of kit! My bike is a Giant NRS series if anyone ever asks the same question I did. Cheers, Chris
22/3/11 Hi Mat I have to say the seat was fantastic and made the weekend even more special for us. My daughter couldn't wait to get back in it and loved whizzing around with Daddy! It also received an unbelievable amount of attention with literally crowds of people around the bike when we came back to where we had parked it commenting and asking where it had come from. we obviously did our best to market it for you - but if you could find a way of marketing properly at Center parcs I really think you'd be onto a massive winner! There was nothing there that even compared to the Weeride. I will be doing a sales pitch on all my friends from now on and hopefully generate some business for you!! I am currently pregnant with my second baby and due to go on maternity leave in August. I'll be doing the baby groups etc whilst I am off and would be happy to distribute any leaflets etc you have if you needed? Thanks once again for all your efforts it was much appreciated. Best regards Victoria Edwards

20/3/11 Hi,
Fitted it today Boardman Hybride Team Carbon no problems & my daughter loved it.
Great product wish I had ordered it before!!
Thanks again
Mark Jacobs
14/2/11 Dear Jo , just wanted to drop a quick line to say thanks for the excellent service with the Weeride seat , it arrived in France on Friday, which was amazing as the order was only completed Tuesday. I had a rear mounted seat for my 18 month old but he hated it, but it is a totally different story with the Weeride , we actually have a problem getting him out of it ! Sunday was really nice weather wise here , and he actually put his head on the cushioned pad and fell asleep on the ride back home , excellent ! Thanks again , and we are looking forward to receiving the balance bike now ( although he can't have that until his seconf birthday ;-) )  
Best regards, Barry Morrice
27/1/11 Hi I've managed to attach the bar to the bike, just haven't tried with tghe seat yet, will send you some pictures to see if all is ok Just wanted to thank you for the quick response and postage i will leave you a great feedback. Is companies like yours that make buying on ebay a breeze and I wish you all the sucess and will recomend to friends. Thanks so much Camila
25/1/11 Hi Mat,
Just to let you know, we ordered the Weeride Deluxe for my Pashley bike (as below), and it fits!  We went out on our maiden voyage yesterday and it was great
Thank you for your help, and pleased to say it works!
Jeni
BALANCE BIKES: 16/6/13 Hi Mat
I hope business is going well. Little Jack is just off being tall enough to use his new deluxe balance bike but is still charging on his original first wee ride. Here is my latest video if you wish to share it on your youtube channel.
https://www.youtube.com/watch?v=rr8KSvq3Gvo
He has also had a ride on the tagalong and loves it!
Donna Kane
5/4/13 Wanted to say thanks for the lovely bike which was delivered on time and was met with delight by my young grandson who has just turned 2 and wants to do everything that his big brother does. The bike is so well made and sturdy and he is sure to gets lots of fun out of it so we are eagerly awaiting the better weather.
Mary O'Brien
11/11/12 We just received our wee ride! IT IS AWESOME!!!!!!!!!!!!!! Thankyou thankyou so much, it is fabulous. So very glad to find a balance bike this size. It is perfect for our little (BIG) boy. FANTASTIC!
- tarcey75
16/6/12 Hi Matt
Thank you for your swift service.  Our daughter is more than happy with her weeride balance bike deluxe.  She has got straight on and is riding like a pro much to the amusement of the locals when they see it has no pedals.  Yesterday she rode in total six miles throughout the day, it is her pride and joy, so much so it has to go in her bedroom at night so she knows her elder sister won't sneak a ride on it.  We will definately be recommending in the future.
Yours gratefully
Caroline Corrigan
4/3/12 we brought this weeride for our lil fella and at 24months old he was off. he is now tackling the ramps at the skate park at 2.5yrs old 30months old!! they are fantastic & kids can feel the freedom & exercise of riding, we get comments everywhere we go! thank you weeride
- shazzynscotty
3/2/12 Deluxe Balance Bike Hello there, I am your best advertisement ever !!!... It is true ... I could not get my nearly 4 1/2 year old daughter on any other Balance Bike ... and she is sooo tall I could find one big enough ... In fact the truth is it was about 2 1/2 weeks ... and she rode pretty much daily ... Now she is on a real bike ... All great and all true ... Cheers, RAchel
- rat197rachel
6/6/12 Hi Matt
Thank you for your swift service.  Our daughter is more than happy with her weeride balance bike deluxe.  She has got straight on and is riding like a pro much to the amusement of the locals when they see it has no pedals.  Yesterday she rode in total six miles throughout the day, it is her pride and joy, so much so it has to go in her bedroom at night so she knows her elder sister won't sneak a ride on it.  We will definately be recommending in the future.
Yours gratefully
Caroline Corrigan
6/9/11 Hi guys. Just wanted to share my feedback on the outstanding service I recieved. Purchased a red Weeride balance bike on Friday and with most online purchases you usually have to allow 2 wks, but you guys exceeded expectations and I had it by Monday. That is exceptional. My hat off to you and your wonderful service. On another note ,I was concerned about the fact that post online payment I had not and to date still not received any form of invoice. Can you please forward me an invoice/tax invoice as proof of purchase. Once again my credits to you for a great service
Noelle Laurie
24/12/10 Thanks very much Mat.  We received the bike on Monday 20th, only 1 business day after i ordered it!!  Thanks so much for such a great delivery! Have a great Christmas, will remember your business when we need our next bike. Regards, Shanelle

21/12/10 Hi Matt
I just wanted to let you know that we received the bike and are extremely happy with it. I was amazed at how quickly the bike arrived and will definitely recommend you to my friends.
Thank you again for your excellent service, I look forward to dealing with you in the future.
Many Thanks
Jodi Rusden
TAGALONGS
16/4/15 Good Morning, I just wanted to give you some very positive feedback as in December I bought one of your Copilot Tagalong bikes for my 6 year old son who has been diagnosed with Muscular Dystrohy. He always used to love going for a bike ride but because of this disease he was not able to peddle the bike by himself any more. The Copilto has bought back our weekend bike rides and alot of joy to my son. So I thank you for supplying a fantastic product here in Australia. Kind Regards John Williams
29/7/14 Hi Mat,
Thank you for your email and we are very happy with the product. we use it every day and it is very solid, safe and far superior to our previous purchase which was not steady and extremely dangerous (trail-gator). 
For your data base information the weeride is attached to a kona kikapu mountain bike 21" frame.
Kind Regards
Agnieszka and Sarah
10/5/13 Dear Mat
We are delighted with the co-pilot we bought direct from you.
My son is so pleased to be able to use a 'grown up bike' and drags me out very regularly to use it.
I fitted it to a Ridgeback cyclone 21 inch without problems.
I will probably get another bracket in order to be able to transfer across to my wife's bike easily.
Many thanks indeed
Richard Van Mellaerts
4/9/12 Hi there,
In return to your email I would very much like to say thanks for an awesome product and fantastic value for money. I purchased the co pilot from ebay and it is really solid and well build. I feel my daughter is very safe. 
Many thanks Carlo Wiggins
9/8/12 We are very pleased with the Pro Pilot Tag along we purchased from WeerideUK.  The ordering process directly with WeerideUK was simple and the product was a good price and delivered safely and quickly. The tag along was easy to assemble and to fit to my bicycle.  My bicycle is a hybrid road/mountain bike made by Motobecane that I purchased in the USA in 2003. The Pro Pilot with 6 gears appears to be a well made product and will fit just about any bicycle.  The paint finish is very good and the colour appeals to young kids.   We also have a tandem that we have fitted it to. Attached is a picture of my granddaughter  on the tag along that is attached to my bicycle sitting on rollers so that we could make all the necessary adjustments before taking it on the road.  She is a bit small for it yet but she loves to sit on and be taken ford a ride behind whatever bicycle we attach it to.  It will only be a few weeks before she will be tall enough to turn the pedals. I believe it is a great way to introduce small kids to cycling and we look forward to many happy hours of cycling. Regards Ron Vinall
27/7/12 Hi Ruth
A quick note to say a big Thankyou
The Co-pilot arrived safely today with the postman, fantastic speedy service.
Thanks so much for your follow up when I know you were busy with a move and for the very speedy service and all the assistance you provided for this purchase.
I can now easily get the kids to school and kinder on Monday!
Thanks again
Jo Pincus
23/5/12 Once again, thank you for the frankly amazing customer service..  I don't think I've ever had such a patient, thoughtful and reasonable conversation with a supplier in my life, it's very clear that you believe in your product and that is all too rare these days in any market.
Kindest regards,
Stewart.
18/10/11 Hello Mat, No worries at all. Just a follow up. Yes I am all good, Lochy and I are loving the Pro Pilot, we did a ride of a total of 10km on the weekend (a coupel of small play ground stops on the way) but he is loving it. I must say I was a little surprised how quick he took to it and how confident he is on it. I own my own business and have made an effort the last week to pick him up regularly from Playgroup on it, about a 5km ride. I think we are both loving that, a bit of time away from the office for me and a bit of Father / Son bonding... It's all good. Great to hear that you are busy, I look forward to dealing with you again.
Cheers, Tom Dickson
27/5/11 Hi
wanted to give you a little feedback.  We bought the aluminium pro pilot.  It was easy to put together, it works beautifully and most importantly I think it is not wobbly at all.  Even at very low speeds with a relatively heavy kid back there, the whole ensemble feels very stable and reassuring.  The hinge works very well and the way the mounting can stay on the "Daddy" bike and thus no spanners are needed everytime you want to ride is very good indeed.  A real benefit too is that the bike itself is comfortable for the kids, with a good size tyre/wheel with respect to width and a good seat.  We have had alot of fun on it already and everytime we ride around the neighbourhood people will stop me and ask where i got it etc.  i've had both my kids on it (ages 6 and 3 though the 3 year old is tall) and their faces just light up.  thanks alot.  great product.  well done.
Stephen Gray
2/2/11 Hi Matt,
Thanks very much for you great service, the tag arrived today and I am looking forward to getting home and trying it out.  It was very easy doing business with you and I will certainly recommend you to others.  It couldn't have been much cheaper, quicker or easier to get what I was after.
Regards
Niall Mai
ACCESSORIES
31/5/12 Your service and assistance has been first class and I will not hesitate in recomending you to others.  Alan Cassidy

2/4/12 Hi Mat-thanks for all your help-WeeRide and Rather Special Helmet arrived this morning-am so impressed with your entire service and would certainly recommend you to anyone-hope you have a good weekend-regards and thanks again Lesley
Lesley Fairclough
29/6/11 Hi there...Just to let you know i recieved my order today and i am very pleased with the helmet..Top class service,thankyou ...Victoria Pollock :)
2014
Agnieszka
we are very happy with the product. we use it every day and it is very solid, safe and far superior to our previous purchase which was not steady and extremely dangerous (trail-gator). 
For your data base information the weeride is attached to a kona kikapu mountain bike 21" frame.
Dr Mark on a drop handle bar bike
I tested with mine, and no problem on clearance of the drops, plenty of space to fix the bar on the stem, space for the baby or for me.  And access to the brakes perfectly fine too.
Was curious why you say it can't be used on drops.  Guess it is as you don't want to encourage a bunch of Lycra racers with babies?  I think however the safety of the child is a function of a) good kit (which yours is) and b) good cycling - nothing to do with the fact that the bike has drop bars.
Mr.Wong
Really really pleased with the Weeride tagalong bike - thanks for the voucher and prompt delivery by the way.
Easy to put together and solid construction.
Had it connected to my MTB and went on a 30 mile bike ride with my daughter on the back. 
It feels really sturdy and safe.
Kevin
We're coming to the last few months of using this as our girl is getting big now and if like to comment that it has been fantastic. I have extremely happy memories of riding along practically cuddling my daughter. Chatting, laughing, ringing the bell (lots). I can't thank you guys enough. Best purchase ever.
Al
Hi Mat,
Thank you for the speedy reply.
Your customer relations/service is exemplary.
I will take note of your advice.
Once again, thanks a million.
Katherine
Hi mat 
I just wanted to say a huge thank you to you, and especially to Laura. I now have a replacement bike which is fine. 
Laura was so helpful, beyond the call of duty and I just wanted to pass that on as I find so often we're quick to criticise but not to praise. 
Rashmi
Hi there Mat,
We are very happy with our product thank you.
Jo was fab with us helping us out with the problems. Very impressed with Jo.
Thanks again - have whatzapped everyone pictures of the bike seat and they are impressed you can get one for the front instead of the back
Mark
We have recently purchased a WeeRide Safe Front Deluxe Baby Bike Seat in Black / Beige and are extremely happy with the purchase and the quality of the product.  We have seen on your website that we can register our product for the 1 year guarantee and the guarantee that our child will fit the seat until aged 4.
Just remembered that I hadn't left a positive review on Amazon so have just left one now.  I noticed a ridiculous review on there when we purchased which must have been very frustrating for you but your comments sold the seat to us.
A really excellent service. An urgent purchase being made a few days before Christmas and the seatsforkids/Weeride team went out of the way to make sure the product got here in time on an overnight delivery - which it did to the pleasure of one little girl. We were buying the Weeride coplilot which we are in the early days of using yet, but it has been relatively easy to install and looks to be of very high design and quality, and great value for money. Would definitely recommend this retailer and product to others. Reg Platt The seat worked a treat, easy to install and both practical and comfortable to ride with. Both Harry and I had a great day. He even managed a snooze on the way home. The seat drew lots of attention and we passed on your web address to everyone who asked where we got it from (about 12 – 15 people in all). You definitely have a winner on your hands if you can attract enough attention and distribution .
Chris, Head of Marketing

I wanted to let you know how pleased I am with the WeeRide, it is an excellent bike seat and my only regret is that I didn't buy one sooner. We tried it out this morning and 2 hours later we were still on the bike! My 2yr old son is delighted and because I can actually talk with him whilst we are riding, it is an excellent way for him to become familiar with road safety. I am only 5'2 and we were concerned that I woldn't be able to see properly, but there is no problem and the bike is so easy to control. Thankyou also for amazingly speedy delivery!I certainly will recommend you without a doubt!
Helen
"Mat and Jo have been great supporters of the Iain Rennie Hospice at Home, raising lots of money through various sponsored events, including a marathon walk and 65 mile ride! The Iain Rennie Hospice at Home is delighted to be their chosen charity to benefit from donations from sales of their bike seat business"
Liz Clarke, Head of Community Fundraising, IRHH Angie wrote:

Used the Weeride on Sunday and Harry loved it, I found it very easy to ride the bike and had no wobble at all. (Have been on a friends with a back carrier and hated it, didn't feel safe) Will defiantly recommend it if people ask, and pass on your web site. As I said before super friendly,fast service!!! What more can you ask for.

SEE OUR E BAY FEEDBACK BELOW - FEEL FREE TO CHECK FOR YOURSELVES

"EXCELLENT SEAT, TOOK IT FOR TEST RIDE TODAY, MY 2YR OLD LOVED IT! GET ONE!" 9/5/08

"what an absolute fab bike seat love it baby is one and screams with joy fantastic" 8/8/08

"FANTASTIC SERVICE, DELIVERED ON TIME. REALLY FRIENDLY SERVICE. BIKE SEAT IS FAB" 31/3/08

"First class assistance and service for a great product; Very highly recommended."17/3/08

"These are extremely good people to do business with. Arrived next day 5*"14/3/08

"Customer service? Nobody better than this seller - first class product too." 8/03/08

"Great seat - fits even my 15" frame bike well! My 1yr old adores it! Thanks" 17/2/08 "Wot an excellent product!!! Next day delivery, all round excellent service thanx" 6/2/08

"Believe all the positive feedback you read - it's all true! Next day, brilliant!" 10/1/08

"less than 24hrs to receive goods, some award needed surely, brilliant!" 19/12/07
Tester: Joshua, 5, from Bristol
The product: Weeride Co Pilot tag-along
Price: £79.99
From: 
weerideuk.co.uk
Score: 5/5!
Joshua's dad Andrew said: 'Joshua loves cycling, and I often take him out on his bike at the weekends. When he was younger, I cycled with him in our Weeride Kangaroo bike seat, and I occasionally take Ashley, 19 months, out in it when Joshua is with his mum.
The school and childminder are just over a mile away, too far to walk, plus I have to be at work by 9.30am. I didn't think it was possible to cycle with both boys, so I usually use the car.
The Weeride Co Pilot was really easy to fit, just a clamp to the seat post that required an Allen key for four bolts. It also has a quick release so I can leave it at the school. It's a bit tight though so I have to take a spanner. Joshua is about average height for his age, and needs to get on the Co Pilot - which has a 20in wheel - from the kerb, but once on he can reach the pedals and help me cycle, which he loves. With Ashley in the Kangaroo seat as well we look quite a sight!
I'm getting some exercise, and saving over £200 a month in fuel and parking charges. Both pieces of equipment are solid, easy to fit and affordable. You do need good balance to use them together, though!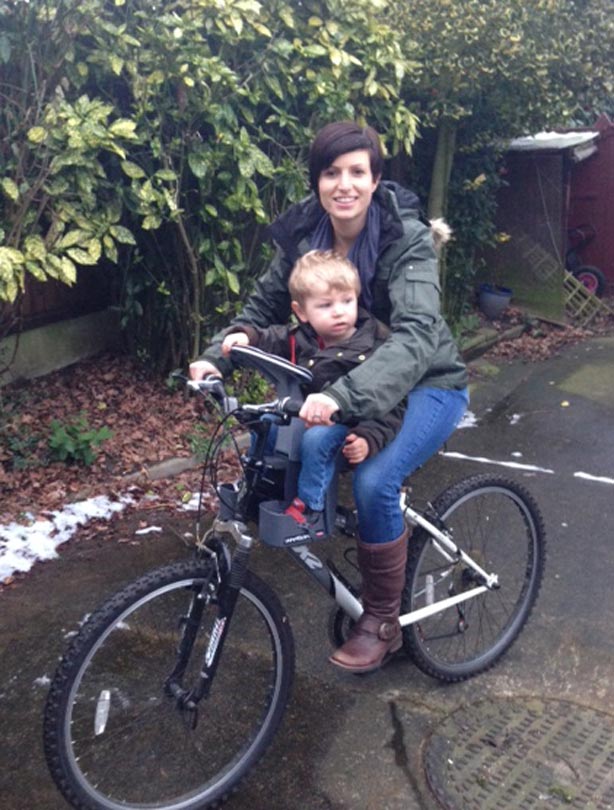 Weeride Safefront
Tester:Harry, 20 months, from London.
The product: WeeRide Safefront
Price: £99.99
From: 
weerideuk.co.uk
Score:5/5!
Harry's mum Naomi said: 'Freya, 3, loves to scooter to pre-school, but she's pretty fast. Harry is big for his age and heavy to push in the tandem buggy I still use. I'd be running along yelling at Freya to stop every time she came close to a road.
I'd thought about cycling, but I've got a fully suspended mountain bike, so a rear facing seat was out of the question, and Harry is too big for the ones that fit on the handlebars.

The Safefront is WeeRide's newest seat, suitable for all bike frames, except those with drop handlebars. Fixing the bar to the bike was a bit fiddly. My brother had to help me, and I needed to remove one of the plastic clashing strips designed to protect the paintwork because the bolts weren't long enough for my extra thick head tube. It fitted securely, though, and fitting the actually seat to the bar is easy peasy - and the seat can easily be taken off quickly if you want to ride alone.

The seat itself looked really comfy with extra padding and a head support if Harry wants to nap. It has an extendable harness with a child-proof buckle so he can't get out, and foot rests with straps to keep his feet secure during a ride. With his puffer jacket on, he already filled the seat - but as children grow up, not out, I feel confident we've got plenty of time to use it.

Chasing Freya up the road to school on her scooter was easy on the bike, and Harry loved it - laughing and shouting at his sister as we went along. I think this will revolutionise the way we get around!